Tampa Personal Training Testimonials
Here Are Just A Few Of The JWS Success Stories
3 years ago I came to James Smith for Massage Therapy. After battling Rheumatoid Arthritis for over 10 years, I was ready to try just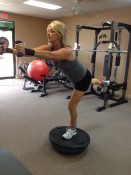 about anything to improve my health and wellness.  My Grandmother had RA and was in a wheelchair by the time she was my age. I imagined the same fate for myself.  I was a vitamin and supplement user and had been athletic. RA changed all of that for me.  I was lost because I had always exercised one way. When it came to exercising in a safe way to improve not only my joint health, but my entire mind and body….I needed help. Rheumatoid is debilitating and somedays I wake up to aches and pains that are hard to overcome. James always finds a way to encourage and help me to work through each issue. Overall, my days are better and I feel stronger than I have in years.  My body shape has changed. I have lost weight and inches which is an added bonus for me. I have learned to eat cleaner and that I don't have to kill myself in the gym for great results. I never came to James for all of these things, but boy am I glad I did. Thanks James!!! –
Lynne K.
In February 2012 I sustained an injury in jui jitsu resulting in herniated disc's and spinal stenosis. I tried everything from rest,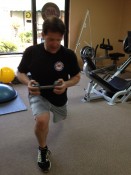 ice, acupuncture to epidural injection's etc .. With no relief. When I met with James I was only able to work half days. James worked with me on my core strengthening and stabilization as well as my nutrition. He focused on the little muscles that support the spine and core and have made an enormous difference in my pain. I can now work a whole day have more energy  and I averted surgery. James has made a huge impact on my injury and helped me get back to work and enjoy my life again .
-Dr. Frank A.
James provided me with an excellent strengthening and overall conditioning program which specifically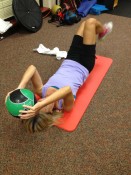 addressed  a golf injury. Development of a specific personal training program that has evolved as my condition improves has resulted in a marked improvement. His holistic approach has improved my balance and core strength, as well as strengthen injured muscles. James is not only knowledgeable and competent, but professional and personable.  I would recommend him without hesitation.
-Ann V.
James W Smith is an endless well of knowledge when it comes to strength training, nutrition, and all around health. He is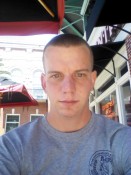 a downright freak of dedication to his profession. So if you want to look better, feel better, and increase your well being. I wouldn't trust anyone else other than James Smith. He takes care of everything. All you need to do is show up! No excuses!
-Ryan. 
As a new resident to the area, I was anxious to find a personal trainer that was knowledgeable and sensitive to my personal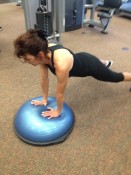 goals. My initial consultation with James proved to be perfect.  He listened to my concerns and heard my personal goals. I have been a client since December 2012 and have seen the results of hard work by me and knowledge by James.  He knows just when to push me a little further, without me even knowing it.  As anyone who has had a personal trainer knows, it is a "love/hate relationship"; I love the results but hate (in a good way) the hard work. Thank you James for taking a "personal" interest in my ever changing goals……..although I "hate you" at times, you know that I "love" you and the results. Thank you for being you and caring. I look forward to a long personal trainer relationship.
-Jodi.
When I started working out with James I figured it would be temporary just to get me motivated. But I enjoyed the workouts so much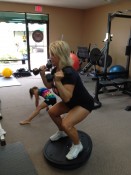 I am still with James over a year later. Our training sessions are always different . Which is awesome and I am definitely more toned and have more energy than ever. James has also helped me tremendously with my diet. Overall if you are serious about getting healthy with exercise and nutrition. I would definitely recommend James.

-Lynne M.
I was impressed with James' thorough evaluation of my goals, condition, lifestyle, and the effects of my work environment before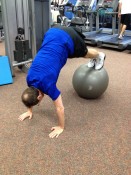 we began a training program. From this he developed an individualized program designed specifically to strengthen areas of need, increase strength and flexibility, and counteract the stresses of the work environment. Each training session is designed to accomplish a full body workout of significant exertion, which is energizing rather than debilitating. James has a keen awareness of each individual's limitations, in general and on any particular day, and is careful to customize your training session accordingly.
My highest recommendation,
-Dr. G.
I had a big vacation coming up for my 40th Birthday. My friend was already using James and she had told me if I wanted results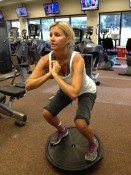 that I should join her workout with James. Not only do you get a great workout but he also teaches you about nutrition and what you need to eat.  This has always been my downfall. I have always worked out but not always ate the right things.  James nutrition plan really works!  He has taught me how to work out in a safe way that I am not hurting or straining any of my muscles. Also, he teaches you the correct way to stretch & the importance of doing this everyday. I have now been with him for 5 months and feel my best & look my best! Thank you James!
-Ann D.
For several years I was a disabled veteran who was competing as a wheelchair track and field athlete. I retired from all competitions with my final game being the 2003 National Wheelchair Veteran's Games.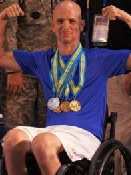 Recently I heard that the games were coming to Tampa for the first time in 33 years.  Since the games were going to be in my town for the first time in 33 years, I decided to train and enter the games.  Shortly into my training, I was diagnosed with an impingement in my right shoulder.  That's when I turned to James to help me rehab my shoulder and train for the upcoming games.Immediately I could see that James had taken the time to understand my unique situation as a paraplegic athlete.
Together we came up with a plan that included strength training, nutrition and planning for me to be right at peak just in time for the Veteran's Games.  Thanks to the help from James, my return to track and field was a huge success.  My shoulder feels great and I took home 7 medals, 4 gold and 3 silver.
-Dwayne S.